Life at school
At Viborg Katedralskole you can become involved in all activities on equal terms with all other students. This means student clubs, galla, events, parties and much more.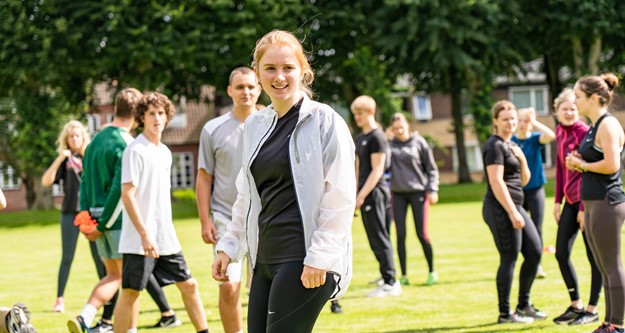 Everyday life at the school  
Cafés, football tournaments, galla and homework café. Everyday life at VK is full of opportunities to develop both socially and academically. You will experience becoming part of the IB community, but also of the VK community, which is characterized by high academic standards and very engaged students. And you will experience all of this in the setting of a 900-year-old school which offers a lot of traditions.  
Holidays and important dates in 2022-23
We urge all students not to go on holidays or the like outside of the official holidays. If you have a long distance to travel, going home for holidays, please contact the IB coordinator as early as possible to make arrangements. Do not make any travel arrangements without contacting the school first. 
Mon. 8 Aug. 9:00. School begins 
Tue. 10 Aug.: International teambuilding and Activity Day. 
Thu. 14 October: Parent-teacher-students talks and International Parents Night (talks also online) 
Mon. 17 Oct.-Fri. 21 Oct.: Autumn holiday 
Thu. 22 Dec.-Tue. 3 Jan.: Christmas holiday 
Mon. 13 Feb.-Fri. 17 Feb.: Winter holiday 
Mon. 3 April-tue. 11 April: Easter holiday 
Bank holidays: 5 May, 18 May, 29 May 
Mon. 30 May-Fri. 3 June: Mock exams 
Wed. 22 June: Extended Essay (no school obligations after this) 
Mon. 26 June: Summer holiday begins
At Viborg Katedralskole, you have the opportunity to get engaged in exactly what you find interesting. It may be the climate, debating, or having an influence on decisions taken at the school. Read more about the many clubs and comittees at the school here: 
The Senate
The Senate is the school's student council. The Senate is a student organisation for you, the individual student. On a daily basis, the Senate is governed by a chairman, a deputy chairman and a treasurer. In addition, there are two members from each class, which brings us up to approx. 80 members. The purpose of the Senate is to process and address issues at the school in order to create a safe environment for all the school's students. This is done through close collaboration with the school management, who are always interested in our input, big and small. The Senate, like all other student councils, promotes student democracy and debate, but where the Senate differs from the student council - as you may know from primary school - is in that the Senate has a budget with 'a larger disposable amount'. This enables us to tackle ambitious issues at school. 
Find "the Senate" on Facebook here.
- The Senate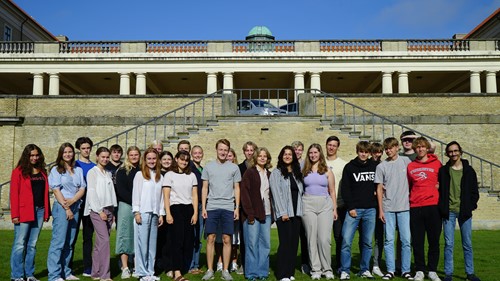 Minerva
Minerva is Denmark's oldest student organisation and assists in arranging some big and unforgettable parties. During the school year, Minerva puts on five big parties. The first, is the Flower Ball, where everyone is nicely dressed and the boys from 1g hand out roses in large quantities. For the following party in the fall, Minerva chooses a cool theme themselves. Santa hats, Christmas jamming and happy students characterise the cozy Christmas Ball. This spring we hold VK's biggest party, Carnival. For this event, an artist is usually hired who can kick the party into full gear together along with the many different costumes you show up in. The last party of the school year is Prom, where we say goodbye to all the wonderful 3Gs and get people ready for summer vacation with a bang of a party. Spreading fun and memorable moments for all the festive students at VK is Minerva's flagship cause. Find "Minerva" on Facebook here.
Find "Minerva" on Facebook here. 
- Minerva
Café
Viborg Katedralskole's Friday café is an old and cozy tradition. The café committee, which consists of 15 students from all classes, arranges an afternoon six times a year where the school's students can meet up with friends and classmates and get a break from the usual framework of everyday life.
For the Friday cafés, entertainment has always been provided in the form of themes, competitions, various games, etc. as well as the opportunity to buy toast and drinks at budget prices. In addition to having a fun and cozy afternoon at school and a good start to the weekend, the cafés provide ample opportunity to meet across classes and year groups and are thus a good contribution to the school's social life.
- The Café Committee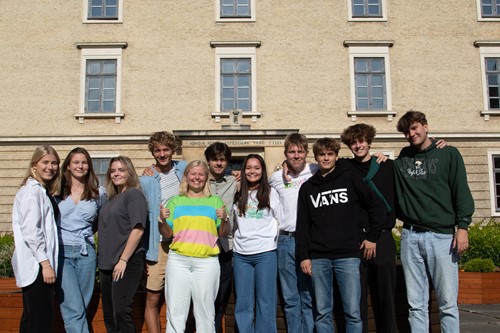 Green VK
Green VK is the school's climate and environmental organisation. We work towards creating a greener school and everyday life for students and staff. We often work closely with the school management. Among other things, we have helped create a climate action plan for the school. With over 40 members, we have great influence and have launched several green initiatives, and we help both the canteen and the boarding school with solutions to get more vegetarian food. We hold an annual climate week, which is dedicated to climate issues - also in classroom lessons. VK has been awarded the green flag for several years in a row. Green VK raises an important issue and contributes to a better environment and sustainability. Together with teachers and students, we work to achieve the common goals of a greener school and contribute to the message of shared responsibility for the environment - and for each other.
Find "Green VK" on Facebook here
- Green VK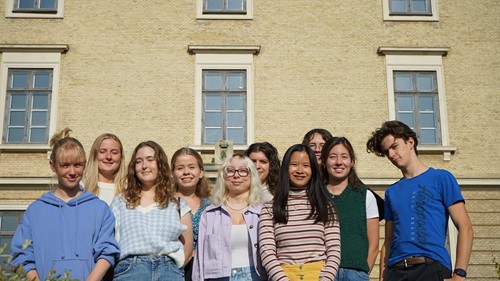 Novus
A school is not just the buildings in which teaching takes place. It is the sum of all who have their everyday life at school. The purpose of NOVUS is to portray VK's soul - the living pulsating spirit that makes the school a very special place. NOVUS is the school's student-led media platform. We publish video blogs, articles and podcasts that tell about things big and small - very close to the students' everyday lives. Snapshots, debates and Christmas calendar bring students together across year groups and classes. Everyone has a voice and the opportunity to be heard. We always strive to bring current topics and we span a wide sphere of interests. So we have room for you! Read the blog here.
- NOVUS
Radio Wad-Up
Radio Wad Up acts as the school's radio. This group was formed in 2011 on the initiative of two students who lacked music during breaks and had the will to get a radio up and running. It came to be called Radio Wad Up and is still going strong. The radio is 100% student-led, and our main task is to play music for the students in the big break. We also play at the Friday cafés. We play all kinds of music and gladly take requests and suggestions. In addition, we also regularly post music-related articles on our Facebook page. Radio is not a big organisation, but nonetheless, we enjoy putting time in this project, which we all find super important and rewarding.
Find "Radio Wad-Up" on Facebook here
- Radio Wad Up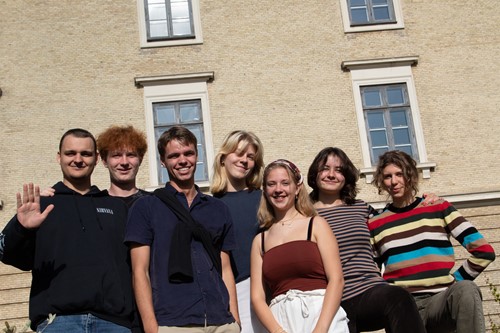 Bohr's Disciples
Bohr's Disciples is a new student organisation that loves science. It organises events, presentations and much more, all of which are about how the world around us is connected. 
The Musical Committee
Every other year, a musical is held at Viborg Katedralskole. This is a really large production, where everything is student-made - from script to stage set-up and choreography. It is us - the students - who decide and carry out everything. The musical is a large community formed around this large project, which requires several months of preparation. We are having a lot of fun with it, and we are looking forward to showing the result to hundreds of people. Being part of the musical is a completely unique experience for VK students.

- The Musical Committee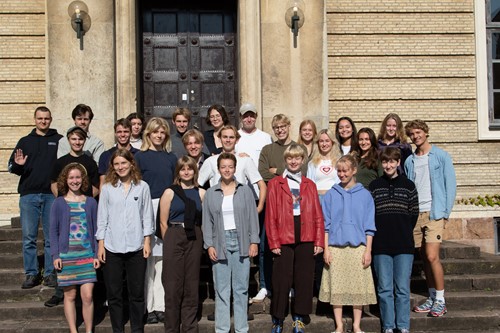 On Spot
We are Viborg Katedralskole's film channel. We film for the cafés and other exciting events at the school. We also hold an annual film festival in Fotorama, where the media studies teams can watch their films and win various awards.
In On Spot we are always welcoming new members, so if you are into making films, you should definitely consider becoming a part of On Spot! You can find our films on our Facebook page, or - if you are lucky enough - at one of the school's morning assemblies.
Find "On Spot" on Facebook here
- On Spot
Global VK
To put it simply, Global VK is a social club. It is made up of a co-ordinating team who arranges various events during the year that the students can participate in. We do not exactly have a focus on internationalism, as the name could imply, but more so a focus on creating relations between students who otherwise would not have anything to do with each other. With that being said, our events will be in English in order to create a common language, and in that way avoid excluding some of the schools students.
Global VK is a fairly new organisation but we already have plenty of ideas and plans such as movie nights, game nights and going ice-skating at Christmas. Sometime it feels as if you are one big group of different personalities but one thing you all have in common is a shared interest in meeting new people. 
- Global VK
The Debate Club
We are a cozy, student-led club for those who find debate and exchange of views exciting. We live in a democratic society, but not to an extent so that everyone is heard equally. The one who takes the floor - and does so in style - is the one who is heard. The Debate Club is an opportunity to obtain that style. In addition, it provides the opportunity to other people's views and perhaps even become a little wiser on some issues, or you can help to give others a new understanding of a given issue. We debate everything that can be debated; everything from pineapple on pizza to euthanasia. So if you want to help find the solutions for the future and not least debate, then become part of the debate club. 
- The Debate Club
The MGP Committee
The MGP committee is responsible for the annual Eurovision show, where all students at the school can be allowed to participate and perform. It is a big party with song and dance held on a Friday afternoon in collaboration with the café committee. Glitter and confetti characterise the cozy show for all the school's students and teachers, which ends with a vote to find the winner. But remember: it is all fun and games. 
- The MGP Committee
Morning assembly and 'The Jingle Band'
We are responsible for Viborg Katedralskole's morning assemblies. Together with teachers and the principal, we select humorous features and exciting information for VK's students. We make sure the morning assemblies are as entertaining as possible. In addition, we plan the morning assemblies with the Jingle Band, which is responsible for the good atmosphere with great music between the features. The committee consists of students from all classes. 
- The Morning Assembly Committee and The Jingle Band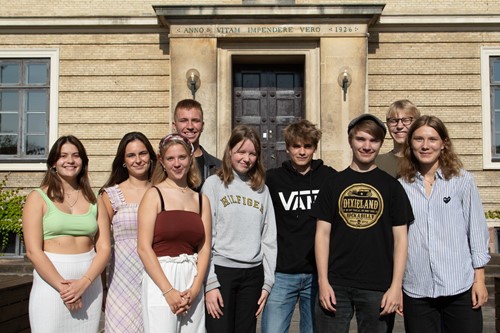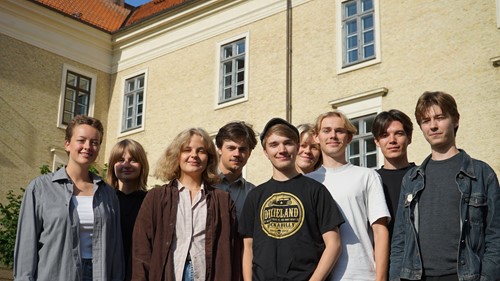 And a lot more...
In addition to all the above committees, we have the Promoter Group, Free Visual Arts, the Role Playing Club, the Red Cross Committee and the Choir. 
In addition, during the year there is a large number of internal football matches between the classes, volleyball in the hall and much more.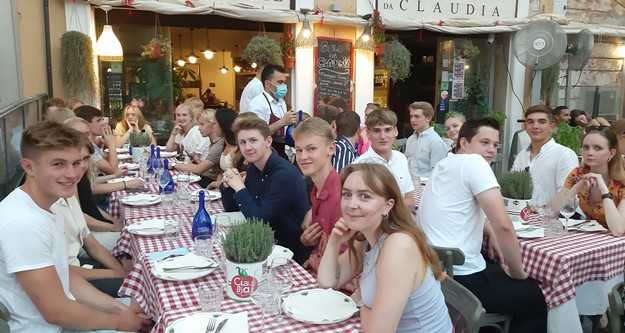 Study trips 
During your educations you will go on a number of excursions and a study trip abroad. In IB1, you may go to Copenhagen, Aarhus – or Thy, and in IB2 on a study trip abroad. These trips are integrated in the courses and subjects and you go with your class and sometimes other classes as well.  

Do you have any further questions?
Please feel free to contact IB coordinator Mads Fedder Henriksen on this number +45 23 96 03 86 or write him an email at mf@vibkat.dk.